BREAKING NEWS:
 
 US SEN. MARCO RUBIO TO ADDRESS AND STATE SEN. AARON BEAN TO MC FFPC ANNUAL AWARDS DINNER
(Orlando, FL) US Sen. Marco Rubio will address Florida Family Policy Council's 2022 Annual Policy Awards dinner and state Sen. Aaron Bean will serve as MC. The featured speaker for the evening is CEO of the Babylon Bee Seth Dillon, and the event will take place on Saturday, May 14th at the Rosen Centre Hotel. A VIP Reception will begin at 4:30PM (separately ticketed event) and the dinner itself will begin at 6:00PM. Dinner tickets and sponsorships are available on sale here at this link. Last year's event was at full capacity, and we encourage you to register early. Though 2020 and 2021 were unusual years which required us to push our dinners to fall, we are getting back on course this year with our annual spring dinner in May.
The main speaker at our dinner, Seth Dillon, has appeared in recent headlines. The Babylon Bee is a conservative Christian news satire website that publishes satirical articles on topics including religion, politics, current events, and public figures. It has been referred to as the "Christian version of The Onion," but social media sites have censored it. Twitter suspended the Babylon Bee's Twitter account because on March 16th, it satirically posted that it deemed Rachel Levine "Man of the Year." (This was in response to Levine's being named one of the top women of the year by USA Today.) The tweet, an apparently "hateful post," violated Twitter's rules, and the Babylon Bee was told it must delete the tweet if it wished to regain account access. The satire site refused. Since the site's account was frozen, the hashtag #FreetheBee has been trending.
Enjoy delicious food, watch notable policy and servant leaders receive awards of distinction, and experience wonderful fellowship. Tickets and table sponsorships can be purchased securely online at this link. If you are unable to attend but would like to contribute, you may give online at FLfamily.org.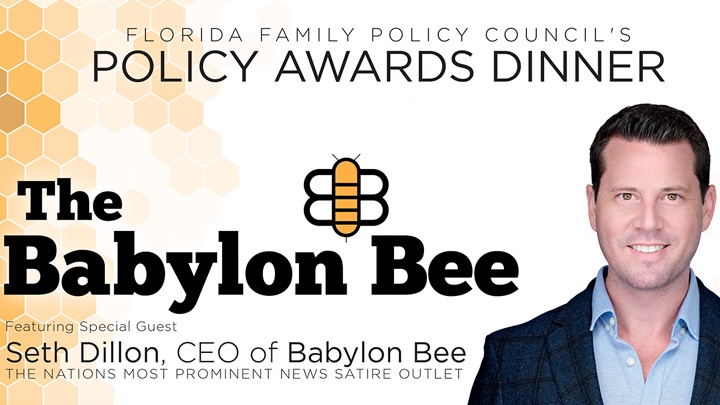 For media inquiries or for more information, contact Melissa Woodford, FFPC Communications Director, at [email protected] or call 407-251-5130.
# # #