BREAKING NEWS: 

GOV RON DESANTIS SIGNS PARENTS' RIGHTS IN EDUCATION BILL INTO LAW DESPITE FIERCE OPPOSITION
In the Disney vs DeSantis Battle, DeSantis &
Parents Across America are the clear winners.
(Springhill, FL) Gov. Ron DeSantis signed a parents' bill into law this afternoon which has seen national opposition from LGBT activists, the media, the Disney Corporation, and the White House itself. The law prohibits schools from officially instructing students about sexual orientation and gender identity through K-3rd grade, ages 5-9. It also protects parental rights and requires parents to be notified of any changes affecting their child's mental, physical, or emotional well-being or health. In addition, it forbids school districts from withholding information from parents. In a desperate attempt to demonize the commonsense bill, the left has dubbed it the "Don't Say Gay" bill.
Throughout the legislative session, opposing groups repeatedly made deliberately false allegations about the legislation's content, and pro-LGBT groups even launched a televised ad campaign asking people to call Disney to publicly oppose the parental rights bill.
Disney CEO Bob Chapek in turn called on DeSantis and met with him to oppose and veto the bill, but DeSantis responded privately and publicly by saying that he is committed to parents' rights and would not cave to Disney's woke demands. Afterwards, Disney said they would increase support for the LGBT movement by giving the Human Rights Campaign (HRC) $5 million, but the DC-based "gay" group rejected the funds saying that Disney had not gone far enough, and they wanted their action not their money.  Disney employees then threatened to punish their own company with a "massive walk out" for not doing more to oppose the bill.  News accounts reported that the actual walk out ended up being around 75 people outside the Disney administrative offices off of Interstate 4.
A recent poll showed that around 67% of Americans support the concept of the bill and disagrees with Disney.  Another poll showed that 53% of Florida Democratic primary voters supported the bill, contrary to what national media has claimed.
At the signing, January Littlejohn, a parent from Leon County, testified about when her daughter was encouraged to change her gender in school without her knowledge, and Erin Lovely, a homeschool parent, spoke about a situation when her 2nd-grade son tried to tell his teacher that God only made two genders and was corrected by his teacher. They both spoke optimistically about the good this law will do for Florida's small school children. Gov. DeSantis flanked in support by parents with small children stated:
"In Florida, we not only know that parents have a right to be involved; we insist that parents have a right to be involved. Today, we will sign HB 1557, The Parents' Rights in Education bill. …Parents have a fundamental role in the education and well-being of their children. We will not move from what corporate media outlets say—I don't care what Hollywood says, I don't care what big corporations say; here I stand. I'm not backing down."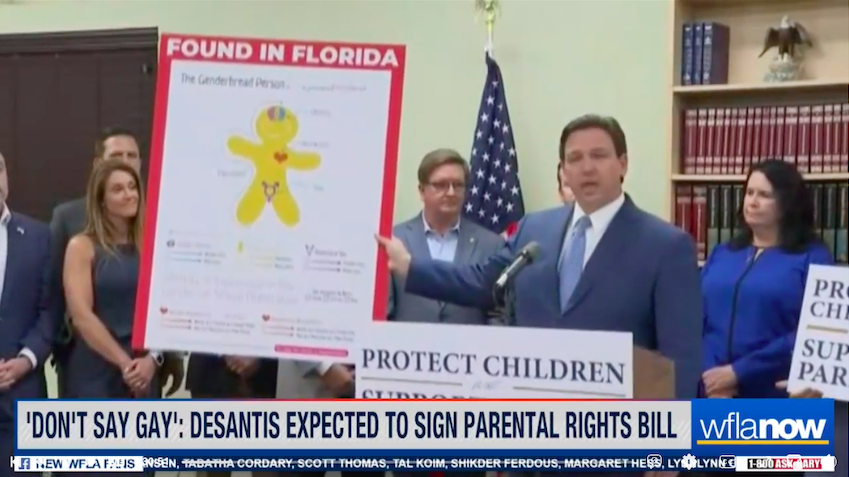 John Stemberger, President of the Florida Family Policy Council, released the following statement on Gov. DeSantis signing of the new parental rights legislation:
"We applaud with a standing ovation Governor DeSantis's firm stand for parental rights and for protecting children. The Governor was a solid rock as he fought for first principles of good government.  He did not budge an inch in the face of the lies and false narratives being perpetuated by the media and small group of radicals. DeSantis's warrior DNA was on full display when he called out journalists to their face who clearly hadn't read the parental rights bill and then told Disney to pound sand. This law is necessary because schools have become more concerned with indoctrination than they are with education. This is not a "don't say gay" bill. It is a "don't turn my son into a daughter" bill. Little elementary school kids do not need to be introduced to transgenderism and other radical views of human sexuality that parents find harmful and are not in their children's best interest.
Finally, we commend the leadership of the House and Senate as well as the bill sponsors Senator Dennis Baxley and Representative Joe Harding for their work."
The bill goes into effect as law on July 1st, 2022.
For media inquiries or for more information, contact Melissa Woodford, FFPC Communications Director, at [email protected] or call 407-251-5130.
# # #